Hey hey!
I've been seeing a lot of people asking around for horror and creepy book recommendations so I have a list! I don't know whether I should categorise these as recommendations considering I haven't even read them yet so I don't know if they're good. I guess it's more like a TBR. However, I've heard great things about these books so hopefully they live up to their name. So in no particular order, I present…
BOOks
(I'm hilarious I know)
These are all going to be YA (young adult) recommendations because I'm sure you know of the popular classics and *cough* all the Stephen King books.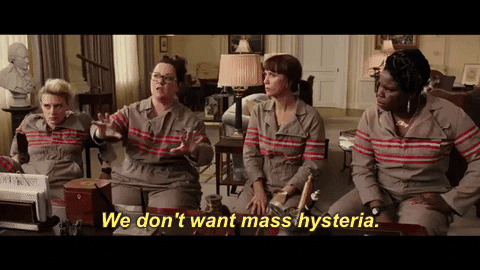 (All book synopses are from Goodreads)
1. The Call by Peadar Ó Guilín

Imagine a world where you might disappear any minute, only to find yourself alone in a grey sickly land, with more horrors in it than you would ever wish to know about. And then you hear a horn and you know that whoever lives in this hell has got your scent and the hunt has already begun.

Could you survive the Call?
This book was actually released not too long ago and the synopsis is a bit vague so from what I've heard from people, it's a twisted and gruesome survival story. The book is set in Ireland (which I'm excessively excited about) and it is a mashup of darker Irish mythology (hyperventilating now). Each teenager is unexpectedly "called" where they vanish to enemy land where they have to survive for 3 minutes and 4 seconds. They're hunted and alone and most of the children return dead. Of course this is part of something bigger and I'm super excited to read it.
2. Unwind by Neal Shusterman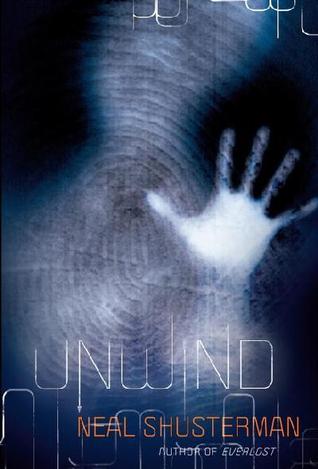 Connor, Risa, and Lev are running for their lives.

The Second Civil War was fought over reproductive rights. The chilling resolution: Life is inviolable from the moment of conception until age thirteen. Between the ages of thirteen and eighteen, however, parents can have their child "unwound," whereby all of the child's organs are transplanted into different donors, so life doesn't technically end…
This is a book with a reputation of being a disturbing, horror, thriller dystopian. I think it's definitely a book that's going to make you think what if… and freak you out. Recently, I haven't actively sought out dystopian books but I've heard all praise about the novel (and series) and will be an excellent creepy book to read. Though I have heard from several people that this book isn't for everyone because although it's a dystopian, it talks a lot about current ethical issues and the gore isn't toned down.
3. I Hunt Killers by Barry Lyga

What if the world's worst serial killer…was your dad?

Jasper "Jazz" Dent is a likable teenager. A charmer, one might say.

But he's also the son of the world's most infamous serial killer, and for Dear Old Dad, Take Your Son to Work Day was year-round. Jazz has witnessed crime scenes the way cops wish they could—from the criminal's point of view.

And now bodies are piling up in Lobo's Nod.

In an effort to clear his name, Jazz joins the police in a hunt for a new serial killer. But Jazz has a secret—could he be more like his father than anyone knows?
If you're looking for a psychological thriller, this may be the book for you! Also serial killer = murders and mystery. I can't believe I didn't find this book earlier because it totally sounds right down my alley and from the synopsis, I spy an unreliable narrator (which I have a shaky relationship with, but they're usually great in these type of novels). When I first found this novel, I didn't think it was a horror (apparently it is) but it's definitely creepy and I just find the mind of serial killers to be really intriguing (don't judge).
4. The Madman's Daughter by Megan Shepherd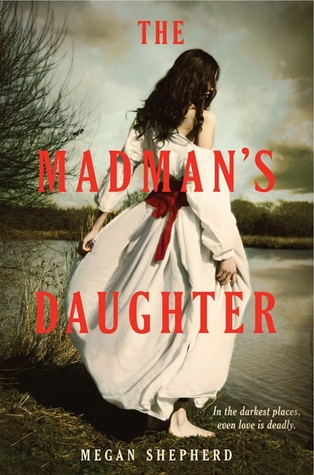 Sixteen-year-old Juliet Moreau has built a life for herself in London—working as a maid, attending church on Sundays, and trying not to think about the scandal that ruined her life. After all, no one ever proved the rumors about her father's gruesome experiments. But when she learns he is alive and continuing his work on a remote tropical island, she is determined to find out if the accusations are true.

Accompanied by her father's handsome young assistant, Montgomery, and an enigmatic castaway, Edward—both of whom she is deeply drawn to—Juliet travels to the island, only to discover the depths of her father's madness: He has experimented on animals so that they resemble, speak, and behave as humans. And worse, one of the creatures has turned violent and is killing the island's inhabitants. Torn between horror and scientific curiosity, Juliet knows she must end her father's dangerous experiments and escape her jungle prison before it's too late. Yet as the island falls into chaos, she discovers the extent of her father's genius—and madness—in her own blood.
This is a gothic thriller, something very new to me and I can't wait to dive into it. The synopsis tells a lot, yet I feel it holds a lot back and that makes me really interested. I hear what stands out the most is the eerie, creepy atmosphere and it's set in Victorian times.
5. Anna Dressed in Blood by Kendare Blake

Cas Lowood has inherited an unusual vocation: He kills the dead.

So did his father before him, until he was gruesomely murdered by a ghost he sought to kill. Now, armed with his father's mysterious and deadly athame, Cas travels the country with his kitchen-witch mother and their spirit-sniffing cat. They follow legends and local lore, destroy the murderous dead, and keep pesky things like the future and friends at bay.

Searching for a ghost the locals call Anna Dressed in Blood, Cas expects the usual: track, hunt, kill. What he finds instead is a girl entangled in curses and rage, a ghost like he's never faced before. She still wears the dress she wore on the day of her brutal murder in 1958: once white, now stained red and dripping with blood. Since her death, Anna has killed any and every person who has dared to step into the deserted Victorian she used to call home.

Yet she spares Cas's life.
Everything in the synopsis screams supernatural and Supernatural the TV show. Does anyone think of a specific angel? I absolutely love the TV show and I'm not actually comparing the two but it is because of the TV show that has made me extremely interested in this book. I don't really read horror dominant books but this sounds really unique so I have to try.
6. The Dead House by Dawn Kurtagich

Part-psychological thriller, part-urban legend, this is an unsettling narrative made up of diary entries, interview transcripts, film footage transcripts and medical notes. Twenty-five years ago, Elmbridge High burned down. Three people were killed and one pupil, Carly Johnson, disappeared. Now a diary has been found in the ruins of the school. The diary belongs to Kaitlyn Johnson, Carly's identical twin sister. But Carly didn't have a twin . . .

Re-opened police records, psychiatric reports, transcripts of video footage and fragments of diary reveal a web of deceit and intrigue, violence and murder, raising a whole lot more questions than it answers…
I've heard that this novel is written through a range of formats – sort of like Illuminae (another novel I haven't read). There definitely seems to be a large mystery element to the story which always interests me. Although I haven't heard much about this book, it's supposed to be haunting and disturbing and very creepy!
If you want even MORE horror recommendations, Goodreads can show you some new releases HERE.
I'm not really a seasonal reader, like cute contemporaries in summer – more like FANTASY all year round. Nor do I read horror books often, but I know many of you feel the fall and Halloween vibes so even though its spring here in Australia, you might add a few to your TBR!
Emily x
DISCUSSION TIME
If you've read these books, what did you think of them? Other creepy or horror books you enjoyed? Also, do you have any book recommendation requests? Comment below!