Hey hey!
I've actually had a better month of reading in September because I didn't think I was going to get to read much – exams and such. I only aimed to read 3 books, but instead I read 6 books (though to be fair, 1 was a short story). Now let's get on with it.
READ
Reading challenge


Goal: 60 books
Read: 51 books (85%)
So Goodreads says I'm 7 books ahead and I'm not too sure how this will progress since my exams are starting again.
Best book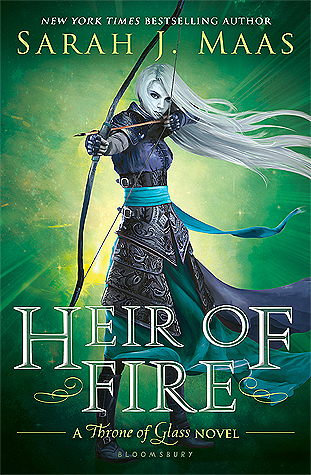 Heir of Fire by Sarah J. Maas
This was such an emotional book. Not quite 5 stars because I did find many parts tedious and repetitive but it's the best book this month. I'm still writing up a review because I recently finished it and I'm still processing it all. The ending was really stressful and there are so many new character introduced in this third book of the series (I'm catching up). I really enjoyed the characterisation and I need to get my hands on Queen of Shadows ASAP!
Worst book

One More Little Problem by Vanessa Curtis
I wasn't the biggest fan of this book which centres around mental illnesses. I think my biggest problem with it was the simplistic portrayal of it and I just needed more depth. I don't consider it that bad of a book, but the seemingly stereotypical portrayals just didn't work for me. I have a slightly longer and better review if you want to read HERE.
Disappointment

/surprise

Maid of Secrets by Jennifer McGowan
The reviews I read before picking up this book mostly talked about the book's mediocrity and upon firstly reading the synopsis, I thought about the amazingness of the premise. There's spies, murder and assassins set in Tutor times and so I was fairly muddled about whether I would enjoy the book. I admit it was a fun book, but I was still disappointed by it. I found there was too much focus on the romance and didn't have the thrill I expected. So if that's the type of historical fiction you're looking for, this might be for you. My somewhat ordered thoughts can be found in this REVIEW.
Other books
Operation Valentine:  I actually enjoyed this book more than I expected and read it in 1 sitting. I should not doubt Loretta's writing. Loved the dialogue, the characters and humour and review is HERE.
Assassin Study (Study, #1.5):  this was such a fun addition to the series and it was from Valek's point of view. You can find the short story HERE, and my review HERE.
Soon (Once, #5):  this was a very short novel and I thought it was the last book of the series but apparently it isn't. I don't think I'm going to continue if additional books are added, but REVIEW.
HAUL
Books bought
How to Lead a Life of Crime: a school for criminals – "only the most ruthless students are allowed to graduate. The rest disappear." doesn't that sound so cool!!
Furthermore: I don't usually read middle grade books but this book sounds so interesting. There's magic, adventure and friendship and I've heard there si a sassy protagonist so YAY!!
Books borrowed
TBR
The Queen's Lady (The Lacey Chronicles, #2): this book is part of one of those series where each book tells a different story with different characters. I don't remember the first book (whoops) but I don't like loose ends and I usually find historical fiction quite entertaining.
The Fall of Five (Lorien Legacies, #4): another series I'm attempting to complete. 4 more to go and I quite liked the third book and it had a pretty good ending. Things are heating up!
The Girl is Trouble (The Girl is Murder, #2): the first book was a bit disappointing because I expected Veronica Mars and I don't know what I got. However, I've heard the second book is better so I'm giving it a go.
BOOKISH NEWS
If you have been existing on the Twitter for the past month, you may have noticed some conflict going around concerning diversity in books and its necessity. I personally think that diversity is extremely important to be represented as accurately as possible whether that be #ownvoices authors or otherwise. Jeann from Happy Indulgence posted a blog post about misrepresentations and inaccurate portrayals of diversity which I think is a great discussion and it can be found HERE.
Diversity is more than the mere inclusion of a diverse character or culture – if it isn't given depth, explored or developed, does it really count as a diversity? Another beautifully written piece that talks about approaching diversity in writing and the importance of empathy I highly recommend reading can be found HERE. Writing diversity requires research, hard work and effort, especially if the culture or group of people are foreign to you – the internet just isn't enough. I know there are many authors that mean well but no one likes to boxed in as a stereotype – allow for the discussion and criticism.
Now onto other bookish news – there is a lot…
New cast member announced for the Shadowhunters TV show. We have a Maia people!! Alisha Wainwright will be joining season 2 of Shadowhunters TV and ahhhh she looks the part. I just hope the acting is just as great as the resemblance. Acting ALWAYS over appearance.
The Throne of Glass series is getting a TV show adaptation!! I am very excited but also confused because it says that the show will be starting from Queen of Shadows (which I haven't read yet) so if someone knows the whole gist of it, do share.
Shailene Woodley is a bit on the 'umm, nope, goodbye' side about continuing with the Divergent series now that the last installment (Ascendant) is becoming a TV show or something like that. I really don't know how this is going to end but it ain't looking good right now.
Sneaky cover reveal for Jenny Han's Always and Forever, Lara Jean (that secret additional to the original duology). The whole series has such a cute and pretty aesthetic and the covers are consistent #winning. Also Jenny Han shares some reason to her secretive writing . Also if you look close enough, you'll see Jenny Han herself on the cover :D
More Pottermore content. It's a very Potter year, isn't it? Anyway there's a patronus test that you can do up on Pottermore and there are a whole lot of ones you can get. I attempted mine a couple of times to make sure but I got a different one each time so I just settled with my first one: Russian blue cat. If/when you've done it, tell me what you get!!
The Darkest Minds gets a cast member in its adaptation. Yet another series I want to but haven't read yet. Anyway, Amandla Stenburg has got a lead in the adaptation.
ANOTHER cover reveal. This time for Emery Lord's new novel, The Names They Gave Us which I didn't know about until recently. From what I gathered, the title isn't supposed to be enigmatic – it's literally the title (not really but that's part of it).
And more news for us Potterheads, but you probably already know… new trailer for Fantastic Beasts and Where to Find Them has dropped!!
LIFE UPDATE
Oh and remember when I said was going to be very busy this month because of exams and I was going to be on and off this blog, well… I started a new TV show. I can't help it that Netflix is just there and continues to recommend me new shows (yes I need to get my priorities together). So I started Jessica Jones and I finished the first season and it's awesome. So the second half of these set exams are finishing off next week so I will be absent again. But then I have a 3 week break before they start again and I will hopefully be blogging and reading all the way through!
And a quote to finish this post. From Heir of Fire, this is quote broke me…
Tell me: why does our daughter love reading so much?
… she has told me that her dearest friends are characters in books.

– Heir of Fire, Sarah J. Maas (Rhoe)
Emily x
DISCUSSION TIME
What excellent books have you read or acquired the past month? Any bookish news I've missed and you want to share? Comment below!