Hey hey!
New month so it's time to wrap up August. I think I've had a semi-decent month in terms of reading, but everything else in my life needs to get in place. Also I've been procrastinating like crazy – it's one of specialities but I'm sure you don't want to know how to procrastinate :D I never know if you like these type of posts. Personally, I enjoy writing wrap ups so much and looking back to see what I've done. They can be long, I guess so let's begin!!
READ
Reading challenge


So another update on my progress of my Goodreads reading challenge.
Goal: 60 books
Read: 44 books (73%)
Ahhh I so kind of close to achieving my goal and Goodreads tells me I'm 4 books ahead of schedule. If you remember from my previous wrap up, I was actually quite a few books ahead the "schedule" (in the low double digits) and so you may be asking "what happened this month Emily – you call that a semi-decent reading month?!?". So firstly, chill. I decided to smush together the short story from the reading the Tales from the Shadowhunter Academy to it's bind-up instead of marking 10 separate books for each of the stories. I just thought it was unfair to count each short story as a book.
Best book

Crown of Midnight by Sarah J. Maas
Oh surprise. It's another SJM book. I had a great time reading this book and apart from the slow beginning and a few minor things, it was perfect and an awesome sequel. If you're still hesitant about continuing the series after reading Throne of Glass, I assure you this was a huge step up from its predecessor. It's so unpredictable and if you want to read the rest of my thoughts, I have a REVIEW on this blog.
Worst book

Sweet Peril by Wendy Higgins
I was already hesitant about continuing this series (this is the second book) and initially I had no motivation to continue. However, I don't like to not know stuff if it's out and sure I could just read a synopsis but to be fair, I didn't find the first book bad. This book however… I didn't enjoy. Nothing happened, I felt no suspense and most of the characters annoyed me. I have an initial response on my Goodreads, but I will be posting a full review soon.
Disappointment

/surprise

Harry Potter and the Cursed Child by J.K. Rowling, Jack Thorne & John Tiffany
Probably one of my biggest anticipated releases this year as soon as I heard THERE'S GOING TO BE AN 8TH HARRY POTTER BOOK!!! i think my disappointment grew as I learnt more about it:
This is a script, not a novel
This was NOT written by J.K. Rowling
Many characters introduced at the end of Harry Potter and the Deathly Hallows aren't going to make an appearance
And then the actual reading…
I know the 3.5 star rating probably doesn't look like I didn't like it and now that I think about it, I don't think I enjoyed it enough to deserve that rating. The fact that "it's Harry Potter" probably subconsciously bumped up that rating but if you want to read all about my detailed thoughts about specific things, I have a REVIEW up.
Other books
See How They Run (Embassy Row, #2):  this was another read I was disappointed by and it could be just the second book slump, so I have relatively high expectations for the next book which is the finale! I enjoy Ally Carter books and this might just be an outlier… I hope.
The Reflections of Queen Snow White:  I received a free copy of this book from the author in exchange for an honest review. This was definitely a different read for me. A dark and heavy retelling of Snow White and although I couldn't connect too much with Snow White, and I wished the book was longer but it was still an interesting read. My full review can be found on my Goodreads.
HAUL
Books bought
Nevernight (The Nevernight Chronicle, #1): an assassin school. Stabbing. Revenge. This is my type of book. I've heard some awesome and not so awesome things about the book, especially the writing, but I hope I don't end up loving the premise more than the actual reading.
Thief of Lies (Library Jumpers, #1): the whole synopsis on Goodreads just makes me so happy (or intrigued might be a better word) and the title and the series title. It hasn't got the best average rating but I don't know how much I trust them anymore.
These Shallow Graves: this book sounds like something I would read a year ago because I find I enjoy the premises more than the actual reading. But I still can't stay away from historical fiction with murder mysteries and it's calling me.
The Princess Saves Herself in This One: this is a bit of a different one because this is a book of poetry. I've never really been a huge fan of poetry, but that's probably because all my experience has been with compulsory reads. However, I've heard many great things about this collection of poems and the title within itself makes me very interested.
Books borrowed
TBR
Heir of Fire (Throne of Glass, #3): there's bound to be spoilers coming out as the release of Empire of Storms is so close, so I've been "attempting" to catch up with the series and not get more spoiled than I have. I'm very excited to see the next part of Celaena's journey.
One More Little Problem (Zelah Green, #2): I'm actually not too interested in this sequel, but it's a short book and the last book of the series and if you know me, you'll know I find it difficult to DNF series as well as books.
Soon (Once, #5): another last book in the series that I want to finish and although I read most of this series a long time ago, I'm still hopeful that I'll enjoy this conclusion. It may be pointless, but we'll see.
BOOKISH NEWS
LIFE UPDATE
So a started watching a new TV show; How to get Away with Murder and it's SO good so far. Like so good. Not many TV shows can achieve a not confusing dual timeline i.e. switching between the present and past timeline. But HTGAWM does this so well – its intriguing and I just can't stop watching. All the characters are unreliable (but not in an annoying way) and I want to know more!! The actors are SO good and Viola Davis is amazing. I've finished season 1 and I will definitely continue.
Also, I succumbed to the pressure and hype around Stranger Things and I watched the season in 2 days. Were all my priorities neglected? Umm yes. It's a really good show but I didn't enjoy it was much as many other people.
I have exams at the end of this month and the start of next so I might not be as active on my blog and social medias. They will be the death of me. Also that means I probably won't be reading many books because these are pretty important set of exams. So to end this post, I've got a bookish quote from Cursed Child from the total boss and sass queen, Minerva McGonagall.
"Bravery doesn't forgive stupidity. Always think. Think what's possible."

– Harry Potter and the Cursed Child, J.K. Rowling, Jack Thorne, John Tiffany (Professor McGonagall)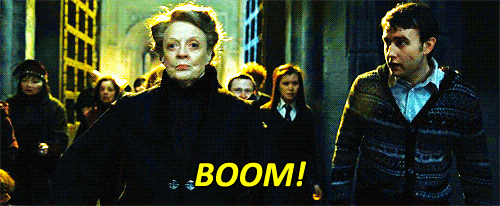 Emily x
DISCUSSION TIME
 How was your reading in the month of August? Any phenomenal books you need to spew about and shout to everyone to read it? Comment below!