Hey hey!
Today, I've got another review of a series that I am evidently behind and attempting to get up to date with in hopes that I will not frantically run from circulating spoilers. The second book of the Throne of Glass series… Crown of Midnight: The Killer Sequel. Joking, ignore the "title" after the colon (though PUN definitely intended). Just a heads up that if you read this review, you will get spoiled for the first book in this series, Throne of Glass and the prequel, The Assassin's Blade. The are a lot of great moments that won't have the full effect if you get spoiled. You have been warned. Everyone else can pass AKA 97% of the reader population. Also I have a spoiler section at the end of my review because there are so many things that need to be discussed, but don't worry because SPOILERS AHEAD will be clearly present so if you haven't read this book, you can scroll extremely fast.
Crown of Midnight by Sarah J. Maas
Series: Throne of Glass (#2)
Genre: Fantasy
Publication: August 27th 2013 by Bloomsbury USA Childrens
Pages: 418
Source: Borrowed

"A line that should never be crossed is about to be breached.

It puts this entire castle in jeopardy—and the life of your friend."

From the throne of glass rules a king with a fist of iron and a soul as black as pitch. Assassin Celaena Sardothien won a brutal contest to become his Champion. Yet Celaena is far from loyal to the crown. She hides her secret vigilantly; she knows that the man she serves is bent on evil.

Keeping up the deadly charade becomes increasingly difficult when Celaena realizes she is not the only one seeking justice. As she tries to untangle the mysteries buried deep within the glass castle, her closest relationships suffer. It seems no one is above questioning her allegiances—not the Crown Prince Dorian; not Chaol, the Captain of the Guard; not even her best friend, Nehemia, a foreign princess with a rebel heart.

Then one terrible night, the secrets they have all been keeping lead to an unspeakable tragedy. As Celaena's world shatters, she will be forced to give up the very thing most precious to her and decide once and for all where her true loyalties lie… and whom she is ultimately willing to fight for.
---
GENERAL THOUGHTS
I still stand by my initial response that this is an excellent sequel. I have a whole new perspective on the characters, the world and just everything in general. I have to say that I didn't really understand all the amazingness of this book that everyone raved about for the first portion of the book, but once we got passed that, it was epic. This may have been due to my high expectations because everyone was saying that this sequel is so much better than its predecessor. I assure you this book is better than the first and the writing has improved but I did have my peeves that took away half a star once my brain started functioning again and the initial awe (that ending though) died down a bit.
Whilst we got a glimpse of the complexities of this world at the end of Throne of Glass, this book goes so much deeper and darker. A lot of my questions and annoyances after reading the first book were answered and explained and it has enabled me to appreciate Celaena more – her actions (almost) all make sense. Basically, everything I wanted from the first book – assassinating, ancient magic, backstories and all the grittiness, was given to me in the gift of this sequel.
PLOT
This plot was crafted so well. We start where Celaena is now doing all the king's dirty work as the King's Champion eliminating his enemies in no other style than assassinating. Celaena really does struggle with completing these jobs and meeting expectations in exchange for possible freedom, against her values and inability to destroy his royal evilness. There wasn't any info-dumping but the action and drama was non-stop – everything intertwines and just as you think it can't get more thrilling, it does! It's high fantasy and it's complicated but not confusing at all – all the elements were woven together so well and actions were mostly justified.
There were only a couple of minor areas of the book when I was like "nope, they would never let that happen" or "yes you are my cinnamon rolls but think about consequences before blurting, okay?" (reality: they didn't listen to my advice) #tragic
Even in the slower or less jam-packed scenes, I didn't feel them dragging on and felt necessary. My attention was held throughout reading it and whenever I wasn't reading this book, I was thinking about it. Also the build up to the revelation major things was done so well and there were internal gasps. The intensity of this book was so strong, I needed to put it down to take a breather but at the same time continue to find out more. The predictability of the previous novel was not here at all and it made this reading experience so stressful.
WORLDBUILDING/SETTING
Most of the book took place in the glass castle (if I'm not muddled up) BUT it's so intriguing. So many more parts of the castle were explored on a deeper level and I thought the world building was done really well. I could imagine it all, picture the events and I felt I was there. So that's excellent writing on Sarah's part. There was a nice balance between the the gripping language, imagery and movement of the plot. Ergo, I was very pleased with the worldbuilding of this book and enjoy the world she has created. Also, I'm VERY excited to visit different parts of this world ;)
CHARACTERS
Celaena: I liked Celaena so much better in this book more than the prequel and the first book of this series. She has character development – that inherent arrogance has died so much (so glad) and we get to see a more vulnerable side to her. It's wonderful.
Nehemia (AKA my precious, flawless favourite): I can safely say that she is my favourite character and a truly moral person. She's not a coward, accepts her responsibilities and takes matters into her own hands, rooted in her beliefs to achieve justice. Also she's a princess and a beautiful person. And she's intelligent. She's such a respectable character and I can't understand how you can't love her, let alone hate her. I will say we didn't get to see enough of her in this book.
Now we need to talk about Celaena and Nehemiah's relationship. I loved it. Celaena's girl hating has thankfully disappeared and instead formed this amazing friendship between the princess and assassin. We start to see a growth in Celaena's trust with women so YAY for character development. I loved all their little scenes together, whether they were talking about relationships or saving the world, I found them genuine and interesting.
Chaol: I was #teamChaol in book 1 and now… still am. Though my feelings towards the Chaolaena ship has dimmed a bit and not because of the reasons I think you think I'm thinking about, but because he was so worried about Celaena to the point where it felt like he didn't believe in her abilities or intelligence to look after herself (I must admit she does make rash and idiotic decisions many times). I did enjoy most of their scenes together and they were satisfying, but scenes like this…
Chaos stood in the hallway, his bronze eyes traveling down the front of her dress, then up again. "You're not wearing that."
made me go…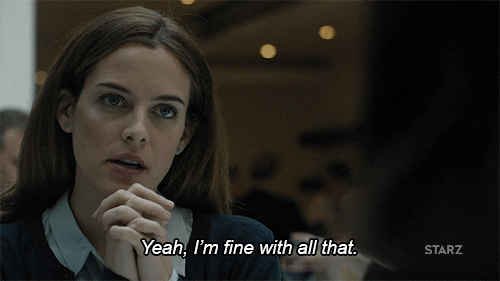 not.
Dorian: sorry but I've never seen Dorian as someone special *ducks*. And the majority of this novel didn't really help with my opinion of him. A lot of brooding and resentful thoughts coming from this one. Ugh. I was questioning the necessity of his presence and point of view for a very long time. Another thing that irritated me was his passivity even though he knows what the king is doing isn't right. Oh well, he's just the crown prince. What can he do in a much higher position and influence than many other people? Nothing, I guess. Okay I'm going to stop bashing him because he does go through so good character development and that twist though. I thought it was random but I'm so glad it wasn't. Just to clarify, I don't hate Dorian. He just has many qualities I don't admire.
ORIGINALITY
That ENDING. Enough said.
WRITING STYLE/PACING
Something I need to declare: Sarah J. Maas is queen of foreshadowing. As soon as something was revealed, my brain would automatically recall all the times I thought something didn't make sense or thought it was insignificant, but it "worked out". I really enjoy Sarah's writing and I don't know why, but it's got that sophistication as well as being really addictive. Her storytelling was definitely improved. I thought the story started off a bit slow or I wasn't as invested in the plot for the first couple of chapters but after that, I loved the pacing. It was fast paced but it didn't skim over details. It would pull back a bit for those emotional scenes where language was especially meaningful but I didn't mind that at all. The humour is so good. I love the dialogue and banter. It's sassy, witty and realistic and actual LOLing happened.
Chaol raised his brows. "So I'm just here for decoration?"
"Be grateful I consider you a worthy accessory"
#Chaolaena
Okay, I need to talk about some spoilery parts of the novel so these are your alarms an sirens that SPOILERS ARE COMING UP. If you don't want to read them, you can rapidly scroll until END OF SPOILERS is in sight. I will attempt to use as little capital letters as possible (no promises).
– – – – – – – – – – – – SPOILERS AHEAD! – – – – – – – – – – – –
3… 2… 1…
Let's talk about the end of part 1 AKA where my heart crumbled, shattered and was then stomped on. Nehemia's death. For a brief second in that scene, I though see was going to survive. This is a tweet in which I described the rollercoaster of emotions felt because I was incoherent after reading this book.

Please refer to point 3 which is in reference to this was the scene. After reading that last line in part 1, I literally froze, stopped reading and put the book down. I couldn't continue. My favourite character killed off. It took me such a long time to pick this book up again because basically I was in a state of trauma and I think I still haven't recovered. From Celaena's massacre to save Chaol to the end of that scene, my stress levels were so high, I had no reason to believe they would come back down again. And I'm still bitter about her death. I thought Sam's death was bad. But Nehemia's surpassed the level of cruelty that Sam's ever had – it was horrific.
And after that where Celaena goes full-on psycho on Chaol about his betrayal. I didn't really see it as that and I was a bit confused about here extreme reaction but I needed to see her rage somewhere because Nehemia did not deserve to die that way and I was a very angry bean. Also I'm expecting some real good revenge in the next book and I will be very disappointed if it's not delivered.
All those plot twists came in an explosion and it as epic. Celaena is fey?!? All I could think of at that time was whether the ACOTAR and ToG worlds are connected in some way even though I haven't read it yet. I used to view Celaena as a reliable narrator and trust all she "said" but everything is a lie. Who do I trust?!?
Now we need to talk about that ending. I was expecting the Aelin Galathynius revelation because I've already been spoiled but I thought it was much later at the end of Heir of Fire so I was still sort of surprised. Sarah is so good at wrapping up books. I had a sense of satisfaction for that partial resolution, but so much anticipation for the book where I hear a certain someone comes on scene and we're going to Wendlyn!
– – – – – – – – – – – – END OF SPOILERS! – – – – – – – – – – – –
So this was an exciting and intense read and I think the Throne of Glass series is starting to become my favourite series. I am tremendously excited to continue you on with this series as swiftly as possible. Zooming off now, byeeee!
Emily x
DISCUSSION TIME
If you've read this gloriousness, tell me what you thought about it (I'm not biased at all). Are there any popular series you're trying to marathon because its newest is going to be released very soon? Or any popular book series your seriously behind? Comment below!
* I am a Book Depository affiliate – for more details, you can read my Disclosure HERE.