Hey hey!
Today I've got a different post and I'm going to be listing my favourite series of books I remember I loved as a child (but I don't know how I would feel now because I haven't read any recently) and they've stuck with me. I'm not saying these are good books but from the whimsical mind of my childhood, these are the books I thoroughly enjoyed reading. Now as a kid, I wasn't the most advanced for readers and I wish I challenged myself, but at my primary school, there would be an expected area of books in the library that were "aimed" at girls and we were kind of pushed in that direction. So you're probably going to see that reflected in my list. Moving forward, these are my top 5!
5. Zodiac Girls series by Cathy Hopkins


I hardly remember anything about the content of this series, however I do remember whenever I would go down to the library, I would be searching to see if there were any new Zodiac Girls books and (internally) shrief in delight when 1 I hadn't read appeared on the shelves. Okay so from what I can remember about this series, each book follows a different girl(s) who is chosen as the "zodiac" girl (fascinating I know), displaying the "typical" characteristics of their zodiac. I think my favourite was Discount Diva and that may be because that's the only book where I remember the plot (also I'm a taurus).
4. Rainbow Magic series Daisy Meadows

I've only shown the first 7 books of the WHOLE Rainbow Magic series because it's seriously never-ending. This series was my first encounter with fantasy books and though they weren't really relatable and were quite repetitive, I so badly wanted to live in the world where fairies existed. Another series I recently gave away – my collection was embarrassing. This series follows 2 girls, Rachael and Kirsty who go on adventures to help the fairies from Fairyland from Jack Frost and now I've realised how bad I am at making summaries so I'm going to stop. There are "sub-series" within this large series consisting of 7 books which focus on a different group of fairies. I was hardly critical with my reading when I was younger and this series was purely for pleasure so although I loved this series, I can see the not-that-great dialogue and well, lack of characterisation, ahem. Moving on…
3. Go Girl! series by Rowan McAuley, Thalia Kalkipsakis, Vicki Steggall, Meredith Badger, Chrissie Perry, Claire Saxby

Once again, you see I didn't even try to include all the book covers in this series because there are a LOT (also I couldn't find a lot of the covers). Like there's 30 books in the main series and then a couple more in the spin-off series. I devoured these books when I was younger and reread them so many times I can't count. I actually had a collection of most of these books until I recently gave them away. I can probably tell you the plot of each of the books – that's how obsessed I was with this series when I was younger. Like the Zodiac Girls series, each book follows a different girl and though the plot isn't very complex, these books had a way of creating relatable characters and presenting situations that are faced by younger girls. Very quick reads look at all the covers matching!!
2. School Friends series by Ann Bryant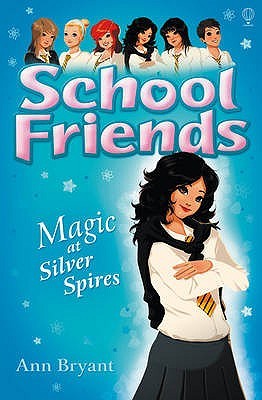 This series, my friends initiated the start of my boarding school obsession. The depths I would search for school based stories (especially boarding schools) was ridiculous but a significant era in my life. Yes; era – it lasted for a long time. Another series I remember I thoroughly enjoyed, however the plot is either deep in my brain or nonexistent this usually fabulous brain. So the first 6 books of this series focus on a group of 6 girls and the second 6 follow another group of 6 girls. Also another series I discovered in the library. Bless my library for helping me discover so many books – they are truly magical places.
1. Geronimo Stilton by Geronimo Stilton


And at number 1, I have the Geronimo Stilton series for my favourite childhood series. I am most certainly sure that I have not read all the books in this series because I think they are over 100 books, and I know for sure I've read at least 48 of them. These books are very visual in that there are a range of different font colours and size, as well as coloured pictures accompanying the story. Reading that style now may irritate me but back then it was YAY colours!! The main character is a mouse – in fact all/most of the characters are mice (if I can remember correctly) and it's some light-hearted adventure and mystery.
So that's my piece of nostalgia for today. Hopefully you recognised some of these books or otherwise enjoyed this post. I won't say I recommend these novels because they're juvenile and even children might find the plot lacking substance, however I just wanted to share my "taste" in books at a young age, and I'm glad I have developed and grown from those experiences of "good" books.
Emily x
DISCUSSION TIME
Tell me about your childhood books. Did they influence the books you read as you became older? Are there any aspects of children books you miss or like seeing in books aimed at older audiences? Comment below!