Hey hey!
If you don't know already, I'm an Australian and there are some fantastic Australian novels out there. So the lovely Jeann @ Happy Indulgence and her mods Genie in a Book, Loony Literate, Thoughts by J and My Life in Books (from the Aussie YA Bloggers & Readers group), are hosting a Aussie YA Blog Hop this week to share all the love we have for Aussie YA books and give them the appreciation and recognition they deserve. So let's spread some of that #LoveOzYA love!!
1. What you love about Aussie YA
I think a large part of enjoyment of a book for me is being able to relate with the story and I'm not saying that I can't related to authors from different countries but I think author context does play a large part of the stories they write and reflect the issues they see and are personally affected by them. So I think the experiences of Australian authors are reflected in their writing and that's great. Also it's awesome to see cameos in books of places you live in or live close to so you can say hey I live 324km from there as opposed to 43059829km.
2. Favourite Aussie YA authors
Melina Marchetta: such an amazing writer and even though I haven't read much of her books, I've enjoyed all the ones I've read.
Loretta Hill: I always turn to her books for some light reads because her contemporaries are always so easy to get through, and something about her stories are so addicting I always come back.
3. The Aussie YA book you grew up with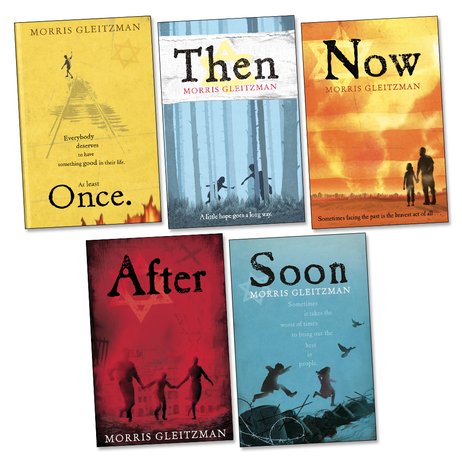 Once series by Morris Gleitzman: I don't remember much about the details of this series but I remember thoroughly enjoying the series and this introduced me to the historical fiction genre.


Go Girl! series by Rowan McAuley, Thalia Kalkipsakis, Vicki Steggall, Meredith Badger, Chrissie Perry, Claire Saxby: this series was actually written by several authors, but I enjoyed all of these books. As a child, I really connected to the relatable aspect of the characters and the telling of stories of small everyday issues faced by young girls. I also didn't realise until I was older that the series actually delved into more "serious" topics like bullying, body image issues and parents separating still appealing to a younger audience. Each book has a different protagonist – all which are girls, and rather than a continuation of stories, each book deals with a different story.
4. Favourite Aussie YA book released in 2016


The Dark Days Club by Alison Goodman: I enjoyed this book so much, giving it 4 stars because it was a bit difficult to get into for the first 100 pages, but once you get part that stage, it's such a gripping story and i couldn't put it down. this is a historical novel, but, it's also a fantasy. That's right, i've finally found a good fantastical historical novel and Alison Goodman has done so well in an accurate portrayal of regency London, as well as incorporating a largely fantastical driven plot. Australian novels, or at least popular Australian novels are usually known for being contemporaries, but you need to try this book out because it has demons and dresses and it's amazing.
5. Aussie YA Debut you are looking forward to


Yellow by Megan Jacobson: this book was released early this year and my friend got it for me, and I just can't wait to drive into it. I've heard nothing but good things about it although it seems like a "stereotypical" contemporary, but there's MUUURDER and mystery and there's a ghost. Tell me that intrigues you.
6. Favourite Aussie YA series


The Girl series by Loretta Hill: okay, this is a bit of a strange one because sometimes this series is advertised as a series and sometimes it isn't, but I'm going to treat it like one. this "series" has different protagonists in each book, however they deal with similar overarching issues like females attempting to succeed in a male-dominated workforce and it's set in the outback. Yes the romance is cheesy, but I can't help but feel warm and fuzzy inside. It's also a very dynamic series because you laugh, and (almost) cry and I didn't expect some of the topics that were brought up. will you know how it ends? Probably, but I found it still really fun. This is the first series that came to mind because a) i don't read many Aussie YA series because I can't find them and b) this is the most recent Aussie series i've completed. But I truly can't think of another series at the moment.
7. Unexpected Aussie YA surprise


Whisper by Chrissie Keighery: I didn't know this book was written by an Aussie but now I do. And after that piece of useless information let's talk about the actual book. Going into this book, I wasn't expecting much and I didn't have too many details about the plot of the book. This book explores the problems a girl faces being deaf and how she deals with them. It's about awareness, acceptance, adjustment and family plays a large role in it. I think there's a lot that can be learnt from this but I don't want to go into it too much, because it's better to go into it with little knowledge and see how you emerge. I don't read as many disability books as I would like, but this one really stuck with me.
8. Aussie YA Book you always recommend to others


On the Jellicoe Road by Melina Marchetta: always. Always. Always. If you come asking me for an Aussie YA book, I will ALWAYS ask whether you've read this book. Melina Marchetta's writing is absolutely beautiful. I found it a bit difficult to get into it at first because its style is different. But A+ at developing atmosphere and there will be emotions flying everywhere. It has mystery and the characters are so complex and constructed so well. You need to experience this first hand. Read it.
9. An Aussie YA book on your TBR


I've been trying to read more Aussie YA lately so I have many on my TBR. So I'm going to rebel and list a few. I'm part of the smaller population that hasn't read Illuminae by Amie Kaufman and Jay Kristoff and I really want to because I've heard it's easy to get through and the style of the novel is really unique. My Sister Rosa by Justine Larbalestier is another book I love the sound of the premise. It sounds very creepy, and therefore is perfect for me. And the last one i'm going to list is When Michael Met Mina by Randa Abdel-Fattah. I've heard mixed reactions with this novel so I want to see for myself. I think the main reason why there is such a range of reactions is because it's a political book. It deals with contemporary issues in Australia and one that is extremely current: refugees and racism in Australia (amongst other things).
10. Recommend your favourite Aussie YA Bloggers!
I haven't been blogging too long but these are my favourite Aussie YA bloggers I've found in this short time.
Cait @ Paper Fury: I can always rely on Cait to write the most relatable blog posts and hilarious reviews. Also her posts are always full of wittiness and GIFs.
Emily @ Loony Literate: yay we share the same name (like a lot of the world population), but about her actual blog. Emily's blog post ideas are always so unique and fun. they make me think about things i usually ignore and they're done in a very entertaining way.
Jeann @ Happy Indulgence: I love Jeann's reviews becaue they're so trustworthy. She's not afraid to speak up about what she didn't find as appealing, AND also justifies with reasons (something that people often forget).
As you can probably tell from my answers, I haven't really read outside the considered "popular" Aussie YA fiction, but I'm working on it. So I'm incompetent currently in adding stuff into blog posts (like the linky thing), so I'm going to link Jeann's blog post that has a whole list of people who are joining in the fun and sharing our favourite Aussie YA books. The LINK. Also there's going to be a Twitter chat on Sunday 14 August at 6pm under #AusYABlogChat and the official Twitter account, @AusYABloggers. So even if you forgot/don't want to participate in the blog hop, I'm sure twittering will be plenty of fun!!
Emily x
DISCUSSION TIME
 I would love to meet more Aussie YA bloggers so link me your blog. How often to you read Aussie YA fiction? Any recommendations? Comment below!